Compassionate, Dedicated Family Law Attorneys
Family matters tend to be a delicate topic, especially when they require legal action. Having a family lawyer you trust can help reduce stress and make any necessary legal processes go as smoothly as possible.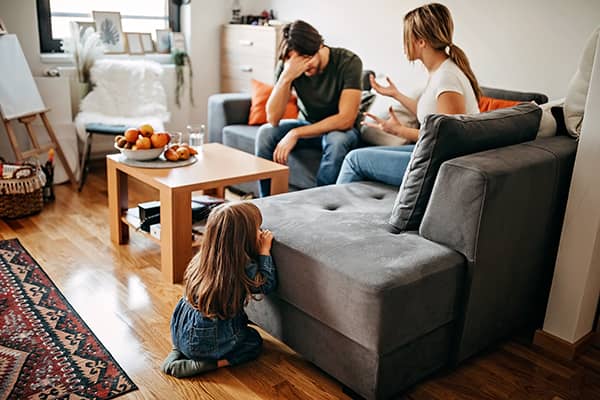 At Flakne Law, we take the time to really get to know you, your family and your situation so we can create a legal plan specific to your needs. Attorney Brian Flakne and paralegal Pam Sammond have been practicing in the family law area for many years, and have helped many families through tough legal situations.
Family legal matters are stressful, and our compassionate team does everything we can to make the transitions easy for you and your family. Whether you are struggling to agree on terms with a stubborn partner or working through an amicable settlement, Flakne Law is here to help in all stages of your family law needs.
Family Law Services We Provide
We cover a wide range of family law services, including divorce, spousal support and alimony, division of assets and liabilities, child custody, child support and domestic abuse cases.
Child Custody
When parents end a partnership or marriage, the issue of who is granted custody of shared children can be a difficult one. A child custody or visitation battle following a divorce is never easy, and you just want what's best for your children. Fortunately, Minnesota laws are tailored to provide for the child's best interests in such cases.
Many factors are taken into consideration when deciding who is granted custody, so it is helpful to have a family lawyer go through these factors with you so you know exactly what you might be up against in court.
Child Support
Like child custody, there are many factors involved in deciding which parent must pay child support, how much will be paid and other decisions that must be considered. Child support laws in Minnesota have been created with the child's best interest in mind, and as a result, they can be fairly complicated. Speaking with a family lawyer who is well-versed in all the current laws can help you educate yourself and prepare financially for both you and your child's futures.
Divorce & High-Asset Divorce
If you are contemplating divorce or have been served with paperwork regarding a divorce, it is very important to understand all your options and what impact they will have on you and your family. You don't want to be unprepared when making these life-changing decisions about assets, alimony and childcare.
Our experienced attorneys are here to walk you through the entire process and help you make the best decisions for your unique situation. We deal with all components of divorce, including settlements, property division, alimony and matters surrounding children, such as child custody and support. We also represent clients who are facing a high-asset divorce, where at least one person in the divorce has a very high net worth. These cases require experienced legal representation as they typically involve large assets, investments and property.
Seek Professional Legal Counsel for Your Family
Don't leave your family's future to chance. Talk to a knowledgeable Minnesota family lawyer today about your case to secure your best chance for a successful outcome. Call Flakne Law at (952) 888-9304 or let us know where we can reach you to schedule a consultation using our online contact form.