Have Briefcase – Will Travel
During the last 40 years Brian has been honored to represent clients all over the State of Minnesota. Brian has represented clients from Fillmore County to Cook County and from Winona County to Polk County and most jurisdictions in between. Brian brings his unique skill set to criminal defendants and family law clients wherever there is trouble or a worthy cause in need. Brian is proud of his reputation of being a traveling lawyer for hire. His business card says it all: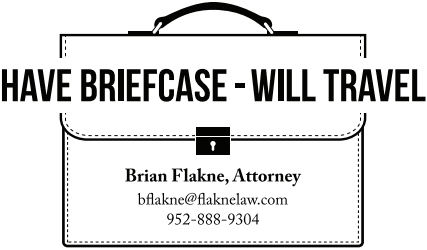 If you need a lawyer who is not afraid of danger or the local "powers that be" give Brian a call and come to know the Flakne Way!